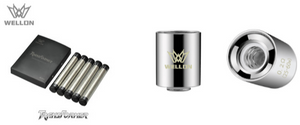 Wellon Transformer Replacement Coils
This cylinder shaped coil is threaded on the top of the coil. Screw it to the connector instead of the atomizer base. This is an extra measure to make sure the device has absolutely no leakage.  
**Sold individually**
Packs of 5 to a tube, 5 tubes to a box, again sold by each individual coil itself.