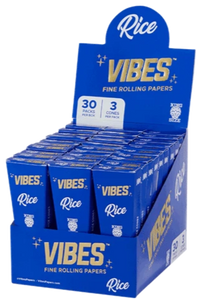 Vibes Cones Rice King (30ct)
🔥 SLOW & EVEN BURN: Due to thin design and natural material Vibes Pre Rolled Cones burn slow & even

🍃 NATURALLY PROCESSED: Pre-rolled With NO BLEACH technology All-Natural Rolling Paper

😎 FAVORITE SIZE:

These are King Sized cones are able to fit enough for groups of 3-5 people.

🤙 6 PACKS:

Each pack includes 3 King Size cones total of 18 pre rolled rolling papers in coffin designed boxes

. Each Box comes 30 packs (of 3)

👍 CONVENIENT: The Vibes rolled Cone smoking paper comes with inserted filter and packing tool for convenience.
Rice paper is almost exactly what it sounds like. It's made by processing rice and then pressing it into thin sheets. Lightweight, easy to roll, slowly and evenly burning. If you like hemp chances are you will like rice rolling papers as well. Made in France and the Dominican Republic, 3 cones per package.

VIBES RICE CONES - KING SIZE
Vibes King Size Rice Cones are geared for those that want a slower burning paper over all else. Rice paper burns slower than hemp making for extended sessions. With the added length of the King Size Vibes Cones you'll be able to hunker down and appreciate your materials flavor.