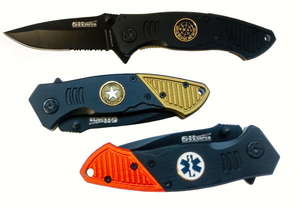 USA Spring Assisted Knife
This is a spring assisted blade with a steel/wood body and frame. This blade has a solid metal outer frame in assorted colors which will be shipped at random.
The blade is 3.2 inches long 7.5 inches long with the blade ready to use & has approximately half an inch thick handle.
Industrial Grade Stainless Steel
Sharper Brand
Black Serrated Blade 
Belt Clip
Assorted Metallic Colors, with assorted designs, United States Army, Swat Special Weapons and Tactics, and Medic, shipped at random