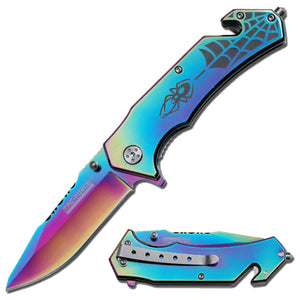 Tac-Force 8" Stainless Steel Spring Assisted Knife Spider Pattern Rainbow Handle
Description:
If you're a knife tech junkie, this is the tactical every day carry knife for you! This Spring Assisted knife is the perfect tool to carry around in your pocket. Featuring a sharp and durable stainless steel blade, this knife will get the job done. Now, the blade deploys with an unparalleled quickness, so you'll be able to outdraw just about anybody. The Stainless Steel blade doesn't mess around, either. The handle fits comfortably in your hand and offers an excellent grip. With its Stainless Steel Rainbow Blade and Handle construction, this Spring Assisted Knife is a genuine eye-catcher. This ensures you'll always have an extremely secure grip and gives a very solid feel in your hand. The blade is very practical and excels at doing just about any task you would demand of it. Sometimes a knife is more than just a tool--this knife is something special, made to preserve hunting tradition and give an air of class and credential to your knife collection. Spring Assisted Technology works through the balance of opposing high-tension springs. As you initiate the opening action, the force propelling your blade open becomes greater than the force keeping it closed. The result is a blade that springs open instantly once it is engaged, seemingly on its own.
Features:
Spring Asissted Knife
Crafted Using High Quality Stainless Steel
It measures 8" long.
4.5" Handle Length
3.5" Blade Length
3mm Blade Thickness
Rainbow Blade
Spider Design On Rainbow Aluminum Handle
Includes Seat Belt Cutter, Glass Breaker & Pocket Clip
Rsut & Corrosion Resistant
Tactical Knife
Flexible for a Range of Applications or Uses
Easy & Safe Carry
Made for Optimal Result
Enduring and Ergonomic & Portable Design
Versatile and Flexible
Exceptional and Smooth functionality
Multipurpose Use
The blade has razor sharp single edge
A piece of craftsmanship and exotic material
High Degree of Sharpness and Flexibility while Using.
Ideal Gift for your Loved Ones
Can be used as Camping Knife, Hiking Gear, Outdoor Knife Survival, Hunting Knife.