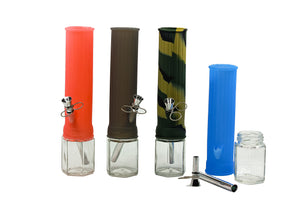 Silicone Glass Hybrid Waterpipe
This tough silicone waterpipe is combined with a see through, glass bottom, making it easier ti clean. It's manufactured from food grade silicone that is non toxic.  This water pipe is perfect for camping trips, outdoor festivals, pool parties or wherever your adventures take you.
The silicone water pipe measures approximately 10 inches in height with a 2 inch base diameter.  
Food grade silicone water pipe
Nifty glass jar attachement
10" tall x 2" base diameter 
Available in a variety of colors and designs
Features metal female and male stems
Comes in cardboard display box