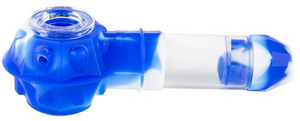 Silicone Glass Hybrid Hand Pipe
Introducing the newest dual travel pipe on the market: the Silicone Glass Pipe Hybrid! A hybrid silicone and borosilicate glass piece that converts into an unbreakable travel bowl! The removable glass chamber insert creates huge, milky clouds. Toss the compact mini pipe in your backpack and never worry about damaging it. Easy to use, convert, and super easy to clean; just soak the silicone parts in hot water.
FEATURES
2 in 1 combo
Use with or without glass piece
Unbreakable heavy duty silicone 
Visual glass chamber
Screened glass bowl Insert
Turtle like shell bowl design
Easy to clean
Approximatly 5" x 2"