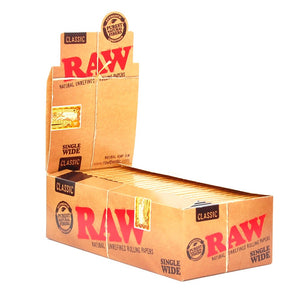 Raw Single Wide Rolling Papers
Raw was created in order to provide smokers with an additive-free and less-processed rolling paper. Made from a natural unbleached blend of fibers, this rolling paper has a unique naturally brown hue and is almost transparent thanks to the thinness of the paper.

With a natural vegan blend of fibers and a natural sugar gumming, RAW is the best choice in the natural rolling paper market.  These papers have a double-window for easy access to the papers.
Raw Natural Unrefined Rolling Papers Single Wide come in 25 packs per box with 100 leaves per pack. Made from unbleached natural fibers,