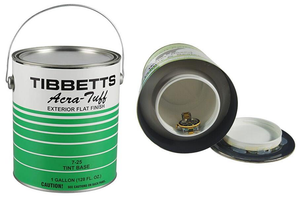 Paint Stash Can
Looking to keep your valuables safe? Use this cool can safe to hide money, jewelry, or any other valuables. No one will ever think of looking here. Stash some extra money or store your old coins and jewelry in this safe disguised as a paint can. This would be a perfect choice to stick out in the garage near your bug out bag. You could even place it in your car trunk to keep emergency cash safely tucked away in an unexpected place. This is an actual Jar (empty) of Paint, brand/color may vary. The bottom screws off for great storage.
Need to Hide Something in Your Garage?
These unique "safes" allow you to hide valuables inside a common quart-sized paint can - one of the last places a thief would think to look. These units are better than a locked safe and a thousand times cheaper.
Let's face it, burglars want to get in and get out - quickly. They're looking for things they can sell and aren't going to bother with the little stuff. That's why these secret safes are so effective. You can hide your money, jewelry, or other things you consider too valuable to be left out in the open or in their normal spot.
Do you like to have a bit of emergency cash in the house instead of the bank? A good idea if the power goes out and ATMs don't work for a while. But leaving it in your wallet or in the dresser is asking for it to be stolen. Thieves are experienced and smarter than given credit for. They know where people stash things.
Who in their right mind is going to open up some cans of paint when they are trying to steal from you?
If you need a "good" hiding spot for your stash, one of these quart sized paint cans diversion safes will do the trick. Did you get your wife a present that you don't want her to find just yet? She's probably not going to go rummaging through your garage. And even if she did, why would she start opening up paint cans?
A paint can in the garage is the last place they will ever look!
Looks like a typical paint can, but is actually a secret hiding spot for your valuables.
The Gallon size compartment measures approximately 4" x 7" 
 Weighted To Feel Full.
Actual label or style of paint may vary from ones pictured.