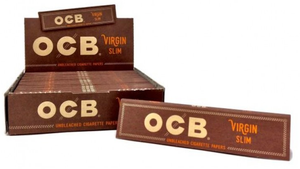 OCB Virgin Papers Slim
OCB Virgin Paper is an unbleached paper. The result is a natural light brown color. Kuje all ultra-thin OCB papers, each leaf is watermarked with special care to ensure the best transparency and gummed with the OCB natural arabic gum, legendary for its effectiveness!
These Regular Size 1 1/4 Virgin rolling papers guarantee a 100% natural smoking experience made from the highest quality of materials in France.
32 leaves/pack
24 packs/box
Slim Size 109mm