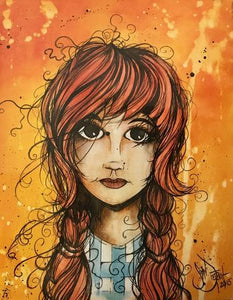 Dorothy Gale
Dimensions: 17" x 11"
Original print by Sean Dietrich
Dietrich is a well known and celebrated San Diego Live Event Artist 
Sean Dietrich wakes up every morning and stares at a blank canvas, hoping to create something that inspires billions of people to give him money so he doesn't have to get a 'real job', as well as keep his gorgeous wife happy and his kids clothed and fed.
The fact that his clients include billionaires, cyber defense companies, major video game entities, industrial designers, famous people, photographers, munition experts, Texas highway patrol officers, djs, bartenders, breweries, restaurant groups, lawyers, rolling paper companies, magazines, drag queens, pot growers, authors, comic book publishers, bar owners, rock stars, old people, young people, rights, lefts, uppers and downers, proves he should probably keep on painting:)
CLIENT'S INCLUDE:
 OCB, FACEBOOK, SONY PLAYSTATION, ASAHI BEER, PABST BLUE RIBBON, ERB MAGAZINE, HIGH TIMES, STONE ARCH BOOKS, RORSCHACH ENTERTAINMENT, MODERN FIX MAGAZINE AND A MULTITUDE OF OTHERS AS WELL AS HUNDREDS OF PRIVATE COMMISSIONS.
*We have 3 of 1,000 printed copies. 
1 of 4 individual Wizard of OZ character pieces that are available. In the original book, Dorothy wore silver slippers instead of ruby slippers, but the films creators wanted to give her some flair and so the ruby slippers replaced the silver ones.