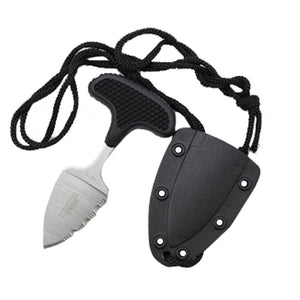 Defender-Xtreme Hunting Knife 3.5" Black Full Tang Stainless Steel Blade w/ Cord
NO FREE SHIPPING/$30 FLAT RATE ON THESE EXCLUSIVE PRODUCTS. 
Description:
Hunting is one of the oldest and most primal hobbies we can still enjoy. Nothing compares to the struggle against nature, and the satisfaction of bringing down your prey. This hunting knife will help you make the most of your next hunt. Every hunter's trusty companion, the hunting knife is useful for everything from preparing your meals to dressing your kill. Featuring a sharp and durable steel blade, this knife will get the job done.
Features:
Tactical Hunting Knife
Crafted Using High Quality Steel
3.5" Overall Length
1.5" Blade Length
Soft Rubber Handle
Black Nylon Cord
Hunting Knife
Stainless Steel
Full Tang Blade
Full Tang and Ridges on Bottom Blade
Flexible for a Range of Applications or Uses
Easy & Safe Carry
Made for Optimal Result
Superior Craftsmanship
Can be used as Camping Knife, Hiking Gear, Outdoor Knife Survival, Hunting Knife.