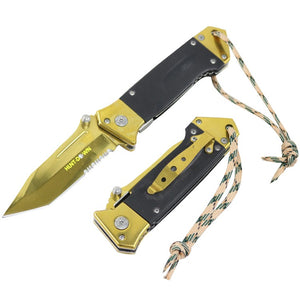 Hunt-Down 7.5" Spring Assisted Gold Blade Tactical Knife With Black G10 Handle
This Spring Assisted knife is the perfect tool to carry around in your pocket. Featuring a sharp and durable blade, this knife will get the job done. The blade doesn't mess around, either. The handle fits comfortably in your hand and offers an excellent grip. Spring Assisted Technology works through the balance of opposing high-tension springs. As you initiate the opening action, the force propelling your blade open becomes greater than the force keeping it closed. The result is a blade that springs open instantly once it is engaged, seemingly on its own.
Features:
Overall Length: 7.5"
Blade Length: 3"
Handle Length: 4.5"
Tanto Point
Gold Blade
Crafted Using Steel
Black G10 Handle And Paracord
Belt Clip
High Degree of Sharpness and Flexibility while Using.