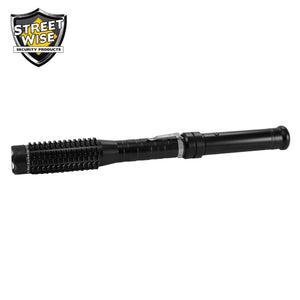 Streetwise Mini Barbarian 9 Million Volt Stun Baton Flashlight
This mini stun baton features a 14 inch long reach, triple stun technology, blinding light, safety features, has military grade aluminum alloy exterior, and is rechargeable.
"The MINI Barbarian" is the perfect name for our newest stun baton. If Conan the Barbarian lived in modern times we are sure this would be his weapon of choice. Even in our more refined culture there are still "barbarians" who roam the streets.  When you arm yourself with this savage looking stun baton with our high tech Triple Stun Technology you will be prepared to easily take down any modern day barbarian foolish enough to attack you. Streetwise Security Products has combined a spiked, baton with a powerful stun gun and blinding flashlight to create the most feared stun baton on the market today.
Whether you leave it on your night stand or carry it with you in your car or on your belt with the metal clip, protecting yourself with the Barbarian is as easy as 1,2,3:
Identify Threat: An attacker will use the cover of darkness to sneak up on their victims and to hide their identity. He'll also look for the most vulnerable victim. This powerful light beam shined in the direction of a possible attacker is often enough to persuade him to go in search of an easier target.
Disorient Attacker: Shining the ulta-bright light directly into someone's eyes will cause several seconds of disorientation and impaired vision. The Streetwise MINI Barbarian 9,000,000 Stun Baton Flashlight boasts a super bright light beam with Self Defense Strobe that can disorient your attacker and give you time to flee.
Strike or Stun! If these first two are not enough to deter your attacker blow from the metal baton or a shock from the powerful stun gun certainly will.
Features: 
Powerful Stun Baton: Just test firing this unit into the air is often enough to stop an attacker. As the bright electric current pulsates across the top of the unit, it creates an intimidating electrical sound. An attacker with any sense will be stopped in his tracks. If the sight and sound doesn't stop him, a jolt from this unit certainly will.
Military Grade Aluminum Alloy: The shock proof exterior not only protects the unit from damage but can also be used to strike your assailant.
Triple Stun Technology: Most stun guns on the market today have only one or two points of contact. When using this model to defend yourself, the Triple Stun Technology (TST) allows an electrical charge to emanate between three separate points on the top of the stun baton (two sides and the middle). This creates a larger stun radius, allowing you to easily defend yourself. Even when test fired the loud, bight electrical burst is often enough to stop an attacker, and if not, a jolt from this unit certainly will!
Long Reach: At about 14" long, it's small enough to easily carry with you but long enough to allow you to defend yourself while keeping you at a safe distance from your attacker. 
Blinding 3 Watt CREE LED Light: Not only will the flashlight safely illuminate the entire area at night, but it can also help to protect you. When shined in the eyes of an attacker, the ultra-bright light can have a temporary blinding effect making it easy for you to immobilize them with the stun gun or strike with the baton.
3 Light Modes: Allows you to easily change between the light modes: 100% for full strength, 50% for conserving battery life, and Flashing Strobe for emergencies or self-defense.
Rechargeable: Recharging cord (included) plugs directly into a standard wall outlet to save you money on batteries. 
Safety Features: To prevent accidental discharge, three levels of safety have been built in.
Metal Clip and Wrist Strap Included: To make it easier to carry, a metal belt clip and wrist strap are included.
Lifetime Warranty: The Mini Barbarian is made of the highest quality components and comes with a lifetime warranty from the manufacturer. See the enclosed packaging instructions for complete details from the manufacturer.
Includes:
Streetwise MINI Barbarian 9,000,000 Stun Baton Flashlight

Lanyard

Belt Clip

Charging Cord SWBAR9MINI

Instructions