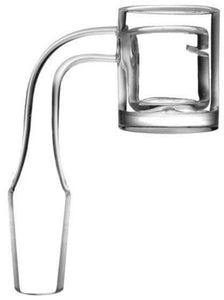 18 Male Quartz Banger w/ Insert
Flat Top Quartz Banger w/ 25mm Head & Insert 
- 100% Thick Quality Quartz
- Works great paired with a Bubble Cap
Quartz Insert Features:
- Keeps your nail cleaner and Increase the Life Span of your nail!
- Improves heat retention 
- New tip: Heat the insert only and drop it in with tweezers, keeping your nail virtually brand new! Or heat your nail head, then drop the insert in with oil already in it! 
- Saves you money! Replacing an insert is less costly then replacing the entire nail.